BENOIT HOYAS

Since he started his career, Benoit Hoyas specialized in contemporary high-end architecture. He worked within the best Belgian agencies in this field, acquiring a priceless know-how, adding up to his academic skills obtained in Brussels and Venice.
Simultaneously, using these strong assets, the Belgian architect progressively developed his own practice. He now works full time for Benoit Hoyas Architecture & Design, the agency he founded in Brussels in 2003.
During the last decade, he led about a hundred projects throughout Europe, new buildings, renovations, etc. :
- dwelling units ;
- villas ;
- townhouses ;
- lofts ;
- mansions ;
- offices ;
- retail boutiques ;
- hotels and restaurants .
Guided by excellence, the architect, both a rigorous technician and a passionate artist, listens to and advises his clients, from the very start of the project to the smallest details, creating a personalized total artwork.
Combining natural skylight, right proportions, lightness of forms, purity and limpidity of volumes, balance between sobriety and sophistication, inspirations and pleasure, the works of Benoit Hoyas interact with the landscape around and the art pieces within.
Aimed towards space quality, materials refinement, the subtlety of the atmospheres, his architectural approach draws aside from fleeting trends, revealing a timeless elegant style.
Education.
Architecture (MA Arch.) - UCL
(Loci Saint-Luc Brussels - Belgium).
Architecture and Restoration (MA Arch.) - IUAV
(Venice - Italy).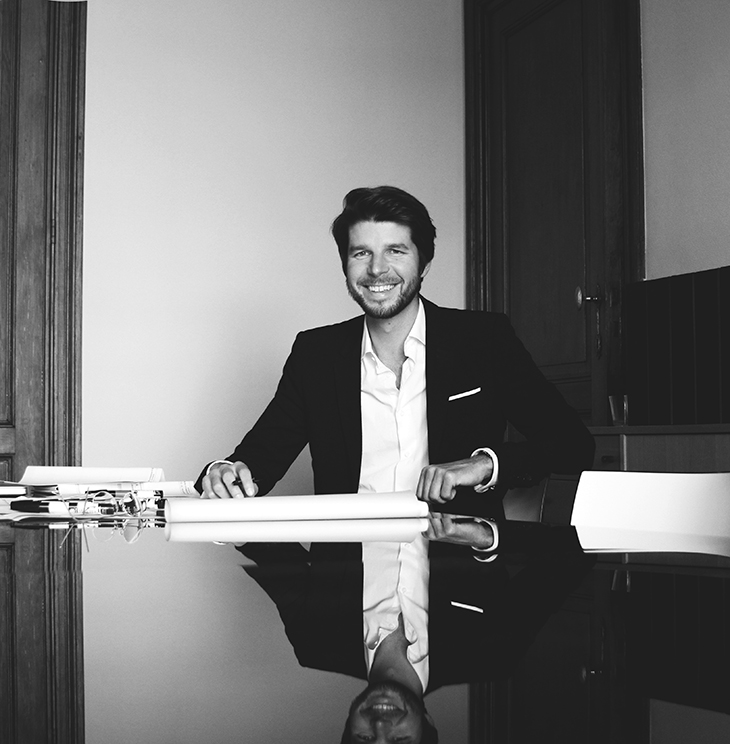 Process

We help our clients through all stages of their project :
- advice in choosing a building or a site
- sketch
- project
- building permit
- tender's file including

- plans
- specifications
- quantities

- offers' analysis
- execution file including

- execution plans
- execution details

- on site follow up
- interior architecture
- advice in lighting
- advice in furniture
- advice in artworks
- advice in landscaping
Combining the rigour and reliability of a skilled technician with the creativity of an inspired artist, Benoit Hoyas and his team provide their clients with a service tuned to their expectations and wishes.
Missions

Real estate development.
Upon request, we carry out technical and financial studies for you real estate projects.
Building permit.
In Belgium, most building projects are subject to prior authorization - called building permit. Changing the use of a building as well. Dividing one townhouse into multiple separate apartments also requests a building permit.

Building authorizations in Belgium

Building authorizations in Brussels.

Building authorizations in Wallonia.

Building authorizations in Flanders.
Regularization permit.
Some works carried out without permission may be put in order by filing a building permit. Contact us for an analysis.
Environmental permit.
Some activities or installations (elevators, tanks, parking lots, retail shops, etc.) are subject to prior authorizations - called environmental permit, valid for a specific duration. Contact us for an analysis.
Consultancy.
We provide you with our skills to advise you in our sectors: real estate, architecture, decoration, art, events, etc.
Synergies.
Thanks to our network, we can direct you to specialists of the following sectors :
- real estate agents
- notaries
- specialized lawyers
- fiscal advisors
- asset managers
- surveyors
- stability engineers
- acoustics engineers
- tenders
- craftsmen
- health and safety coordinators
- EPB counsels and certifiers
- landscape architects
- art galleries
- etc..
International

Live or invest in Belgium.
Belgium has many very attractive sites and buildings, offering high potentials not yet fulfilled. We'll conceived new constructions or renovations enable to transform these in pleasant dwellings, offices, etc.
Also, great investment opportunities exist in the real estate sector in the whole country.
Do not hesitate to contact us if you plan to move to Belgium or if you wish to discover current investment opportunities.
Live or invest abroad.
Our team and our partners may help you with your projects abroad. Do not hesitate to contact us.